On October 8th 2012,
Hellblazer
was announced as ending with issue 300, following which a new title,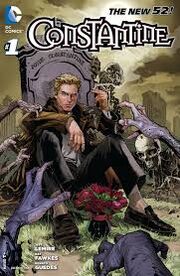 Constantine
will start at the main imprint of DC comics.
Constantine
is written by Robert Venditti and drawn by Renato Guides and the first issue was released in March 2013.
The new comic was to further reintroduce the character John Constantine back to the DC Universe, following his main role during the Brightest Day Aftermath: The Search for Swamp Thing and Justice League Dark.
It is also not to be confused with the graphic novel adaptation of the 2005 movie.
Although similar in title name, the comic is not related to the Constantine film and TV series. The comic takes place in the New 52 DC Universe, and as such John Constantine's history has been retconned from Hellblazer. He also plays a bigger role in the DC Universe scene, being the leader of the Justice League Dark, and being a major player in the Trinity War crossover story arc.
Unlike the previous Hellblazer, John is a con man stationed in New York instead of London.
Reception
Edit
The replacing of Hellblazer was met with disappointment from former writers and of the comic book community. Former writers and artists such as Andy Diggle, Warren Ellis, Jock and Dave Gibbons expressed their reaction the cancelling. Writer Joshua Hale Fialkov expressing sadness he would never get to write the "'real' John Constantine", noted crime author and former Hellblazer writer Ian Rankin stating Constantine was the only comic book character he ever wanted to write for, and Alan Moore's daughter, Leah Moore expressing doubt that Constantine could replace Hellblazer, among others.[1]
DC co-publisher Dan Didio defended the comic, stating that, "Hellblazer's had a long and incredibly successful run and that's a tip of the hat to all the great creators that have worked on the book over the years. The new Constantine series will return him back to his roots in the DCU and hopefully be the start of another incredible run."