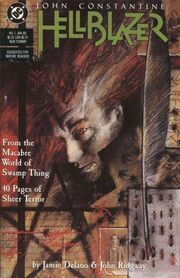 Hellblazer
(also known as
John Constantine, Hellblazer
) was a contemporary horror comic book series, originally published by
DC Comics
, and subsequently by the
Vertigo
imprint since March 1993, when the imprint was introduced, where it remained until April, 2013.
This is the comic that made John Constantine a household name. Many of the Constantine movie and TV show storyline were adapted from the comic.
Ad blocker interference detected!
Wikia is a free-to-use site that makes money from advertising. We have a modified experience for viewers using ad blockers

Wikia is not accessible if you've made further modifications. Remove the custom ad blocker rule(s) and the page will load as expected.